What's missing from the Pro Football Hall of Fame in Canton, Ohio?
The names of the seventeen Native American players in a photo (below) displayed in the Hall. This storied all-Indian NFL team, the 1922 Oorang Indians, had Jim Thorpe (back row middle) as their player-coach, and fellow future Hall of Famer, Joe Guyon (front row left).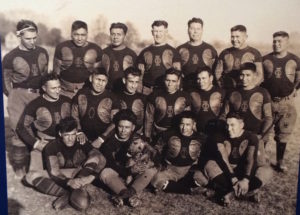 The above photo is displayed next to an all-white team, the Detroit Panthers, whose names and alma maters are displayed.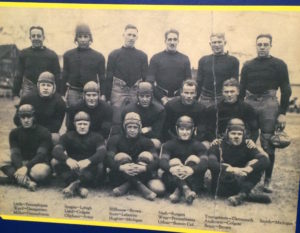 A little bit of research revealed the names of the unidentified Oorang Indians in the Hall's photo. I sent the research to the PFHOF and hope they do the right thing: add the names of the players along with the schools they played for.
C'mon, Hall of Fame, this one is yours to win!
It's as easy as this: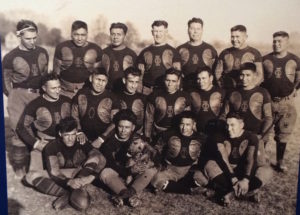 BACK L to R: Haskell Hill, Buck Jones, Elmer Busch, Jim Thorpe, Ted St. Germaine, Pete Calac, Reggie Attache
                 Carlisle & Haskell    Carlisle           Carlisle            Carlisle      Carlisle & Howard    Carlisle &      Sherman
                                                                                                                                                                   W. Virginia Wesleyan
MIDDLE L-R: Leon Boutwell, Nick Lassa, Pearl Clark, Asa Walker, Baptist Thunder, Xavier Downwind
                                   Carlisle              Carlisle                                    Carlisle                Carlisle                    Haskell
FRONT L-R: Joe Guyon, Stillwell Sanooke, Bill Winneshek, Eagle Feather
         Carlisle & Georgia Tech      Carlisle                   Carlisle             Carlisle
                         (Sanooke holds an Oorang Airedale, team mascot)