In celebration of the end of the world, 12/21/12, check out The End Is Upon Us Ball! 
The sequel to Suck It Up Sneak Peek: 1st Two Chapters!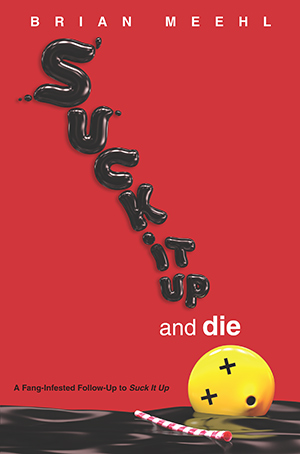 Dear Reader,
Do you wish vampires would lighten up? You know, step from the twilight, and stop being such mopey misfits?
Wait no more. After stumbling into the light in Suck It Up, me and the vampires who've gone mainstream without going bloodstream are marching in the first Vampire Pride Parade!
Just two problems. 1) Some mortals still believe us non-threatening vamps are the new "red menace." 2) There's a super-bad creature of the night with a thirst for revenge who wants vampires to "Take back the bite!"
Who gets sipped? Who gets flipped? I dunno how it all shakes out, and stakes out, but I guarantee this: in the end someone's gonna suck it up and die!
Your Blood Lite drinking pal,
Morning McCobb
P.S. My mortal girlfriend, Portia Dredful, is back too, testing my swill – I mean, WILLpower!
Vampires continue their hijinks and hilarious makeover in this folly-infested follow-up to Suck It Up.
Brian Reads: Listen to the author read "A Vampire is Born" and "Bloodlust You Can Trust!" from Suck It Up and Die.
Buy the book online:
Indie Bound
Random House
Barnes & Noble


iTunes